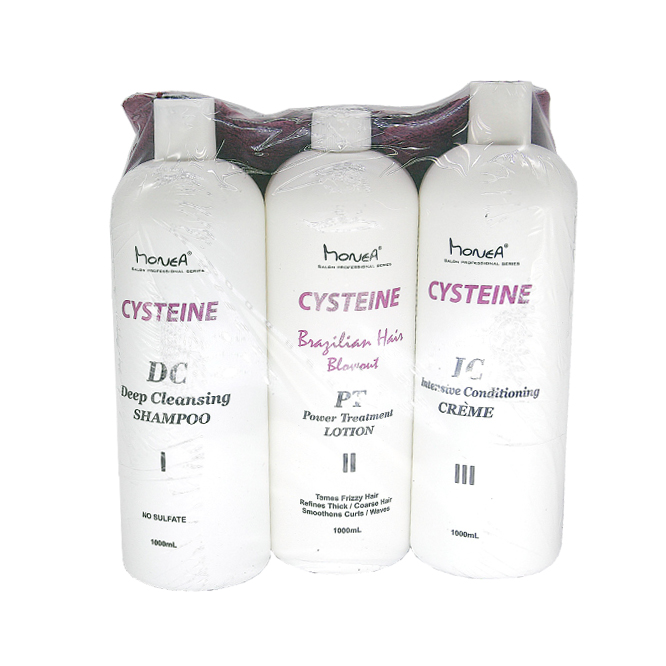 Monea Cysteine Brazilian Hair Blowout
MONEA Cysteine Brazilian Hair Blowout is an ideal innovation of the "Keratin Smoothening Treatment" or the "Brazilian Blow Out" without harmful chemicals, but rather contains powerful ingredients of cysteine, keratin, phyto sleek, rosemary extract, olive oil, and ceramide.
MONEA Cysteine is a safe, simple, easy and fast way of rescuing damaged, super dry/dull, frizzy, thick and porous hair. In less than 2 hours, hair becomes vivacious, smooth and soft with radiance.
MONEA Cysteine consists of the following :
MONEA Cysteine DC Shampoo is a Deep Cleansing yet gentle hair and scalp cleanser without harsh surfactant ingredient like SLES.
MONEA Cysteine PT Lotion is a Power Treatment Lotion for the hair. Infused with cysteine, complex keratin, phyto sleek and ceramide, it remarkably softens, smoothens and refines hair with renewed vibrancy.
MONEA Cysteine IC Creme is an Intensive Conditioning crème power packed with rosemary extract, ceramide and olive oil to complement, strengthen and seal the cysteine power treatment previously performed on hair.
Size: 200ml set and 1000ml set

INQUIRE